Brak w magazynie
Fotel Biurowy YUMISU 2050 BLACK – OT/DH/12
brutto, 852,85 zł netto
Najniższa cena z 30 dni przed obniżką: 1049,00 zł.
Fotel YUMISU prosto z głównej sceny Dreamhack 2022? To możliwe!
Masz teraz możliwość jego zakupu w atrakcyjnej cenie dzięki naszej limitowanej promocji. Wysokiej jakości obicie, komfortowe wypełnienie, czy solidna konstrukcja to nieodłączne cechy naszych produktów
Możliwe uszkodzenia:
Lekko używane kółka, drobne rysy na podstawie, rozpieczętowany zestaw montażowy – uszkodzenia nie mają wpływu na wygodę użytkowania.
Produkt został indywidualnie sprawdzony przez nasz serwis i jest w pełni sprawny.
Ilość sztuk ograniczona!

Opis

Informacje dodatkowe

Opinie (0)
Profesjonalizm w każdym calu
Słowo kubełek może nie brzmi zbyt dumnie, jednak musisz nam uwierzyć na słowo, że kubełkowy design to już całkowicie inna para kaloszy. Przede wszystkim z tego względu, że taka konstrukcja jest idealna do prawidłowego podtrzymania ciała. A stąd już prosta droga do wygody, stabilizacji i pracy bez jakichkolwiek rzeczy, które mogłyby Ci przeszkodzić w wyzwaniach. Wszystko to podkreśla czerń, która idealnie komponuje się z całością konstrukcji.
Gotowy na każdy biurowy survival
Profesjonalizm jest także oznaką charakterystyczną całego oparcia, które także bazuje na solidnym szkielecie. Kluczem są tutaj przeszycia, które wzmacniają całą strukturę fotela, czyniąc go tym samym bardzo wytrzymałym zawodnikiem, wyjątkowo odpornym na wszystkie biurowe survivale i potencjalne nadgodziny, które możesz na nim spędzić. Brzmi jak wyzwanie? Bez wątpienia jest gotowy na wiele!
Komfort zwany ISHIN
Minimalistyczny design i solidne obszycia mogą postawić Cię wyjątkowo blisko stan, który potocznie zwie się usiąść z wrażenia . Jednak bez obaw – w tym aspekcie możemy również potwierdzić pełną gotowość. Wszystko to dzięki ISHIN – poduszce, która idealnie wkomponowuje się w całość designu. Do tego stopnia, że jest praktycznie niezauważalna. Bez wątpienia poczujesz jej obecność, ponieważ dostarczanie komfortu dla szyi idzie w parze z dostosowywaniem się do jej kształtu.
Zawdzięcza to specjalnej piance ( memory foam) , która przystosuje się do wymaganej pozycji. Ten idealny obraz dopełnia także pozostałe, istotne fakty. Jest to welurowe wykończenie oraz mocowanie na zatrzaski. W takim zestawieniu funkcji – dyskomfort w siedzącym trybie pracy, będzie ostatnią rzeczą, którą napotkasz
Solidne podstawy
Dowody na przywiązanie do detali? Przyjrzyj się dokładnie konstrukcji stelażu, który został wykonany ze stali niestopowej, natomiast całość wypełniona jest odlewem zimnej piany. Do tego podstawa zyskała wzmocnienie z aluminium. W przeciwieństwie do Ciebie – na pewno zniesie jakiekolwiek nadgodziny bez grymasów!
Wrzuć na luz
Gdy choć na chwilę opadnie kurz, a kluczowe maile wylądują w folderze 'Wysłane' to z pewnością możesz pozwolić sobie na odrobinę luzu. Wszystko to dzięki mechanizmowi ergomultiblock. Wygnij oparcie fotelu wedle własnych upodobań i zablokuj najwygodniejszą dla Ciebie pozycję. Nie wahaj się także wyregulować stawianego oporu przy bujaniu. Góra? Dół? Proszę bardzo
Skrojone na miarę PRO
Jakość obszycia Yumisu nie odbiega dopracowaniem od pozostałych elementów fotela. Skóra oraz zastosowane materiały wytrzymają nawet najbardziej intensywny cykl projektowy, wraz z wielokrotnymi wypadami po kawę. Wszystko to dzięki dużej odporności na ścieranie. Wypróbuj go!
Dyskrecja ninja
Duże gumowane koła (60mm) dają solidne oparcie na podłożu, a także łatwość w prowadzeniu, gdy będzie trzeba błyskawicznie wejść w kooperację z oddaloną drukarką.
Wszystko to w trybie bezszelestnym i skrytym – tak, aby zbędnym hałasem nie stracić reputacji w biurze
Tytan pracy
Za wspaniałym designem idzie także praktyczność zastosowania w boju. "Żywym" dowodem jest zastosowany tutaj siłownik. Może zechcesz przetestować to w kooperacji z segregatorami z księgowości, w każdym razie z dumą możemy Ci powiedzieć, że zniesie "kaliber" 150 kg.
Deadline czy chillout? Dostosuje się!
Bez ograniczania ruchów a także bez sztywnej konstrukcji. Bez względu na to czy jesteś środku projektowego cyklonu, czy możesz pozwolić na delikatne przymknięcie oczu – dostosuj w pełni regulowane oparcie do swoich aktualnych potrzeb. Na pierwszym planie na pewno jest ergonomia i Twoja wygoda.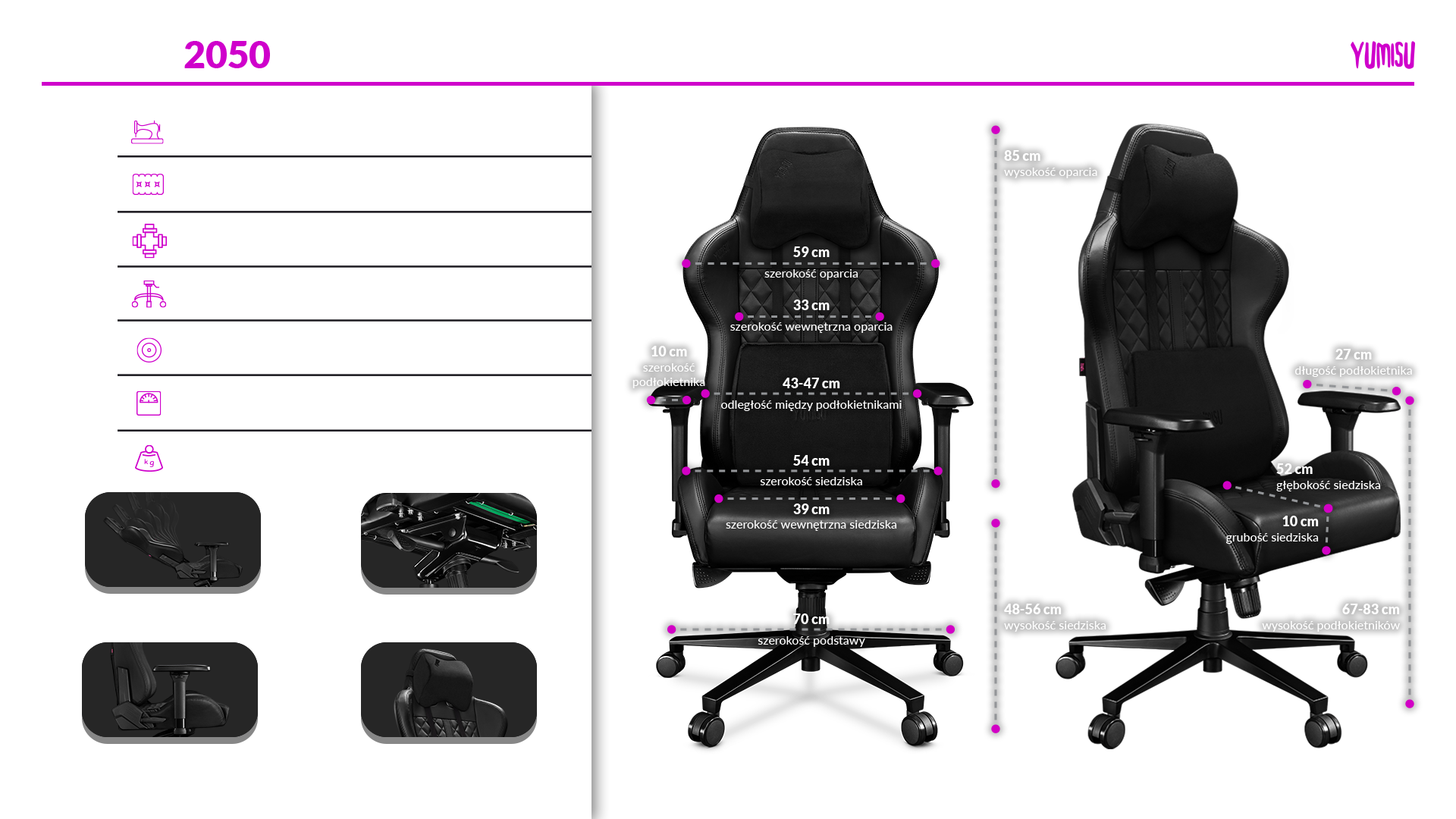 | | |
| --- | --- |
| Waga | 29,3 kg |
| Wysokość oparcia | 85 cm |
| Min. wysokość siedziska | 48 cm |
| Max. wysokość siedziska | 56 cm |
| Szerokość siedziska | 54 cm |
| Szerokość całkowita | 70 cm |
| Głębokość siedziska | 52 cm |
| Tapicerka | Skóra PU |
| Podstawa | Aluminium |
| Max. obciążenie | 150 kg |
| Kąt odchylenia oparcia | 165° |
| EAN | 5907222961919 |
Only logged in customers who have purchased this product may leave a review.