In stock
Fotel Biurowy YUMISU 2053 BLACK
1499,00 zł brutto, 1218,70 zł netto
Najniższa cena z 30 dni przed obniżką: 1499,00 zł.
Bez drogi na skróty ani półśrodków
Bezkonkurencyjna jakość bez żadnych kompromisów. Jeśli uznać japońską katanę jako szczyt kunsztu płatnerskiego, tak Yumisu to produkt najwyższej próby, stawiając go w ścisłej czołówce znajdujących uznanie pośród e-sportowców, jak i profesjonalistów w innych dziedzinach, którzy poszukują idealnych narzędzi do pracy.
Niezależnie czy mowa o decydujących starciach online, czy decydującym projekcie w biurze. Komfort i wygoda stoją bez wątpienia na pierwszym miejscu. Potwierdzeniem tego są welurowe poduszki z wypełnieniem, podłokietniki 4D, czy w pełni regulowane oparcie. Potrzebujesz więcej argumentów? Scrolluj dalej!


Opis

Informacje dodatkowe

Opinie (1)
Prostota i elegancja na pierwszym miejscu.
Spokój, opanowanie, stabilność. Ciężko o zachowanie tych cech przy goniących terminach, ale na spokojnie można przypisać je do Yumisu. Stonowany design, skupienie się na prostocie z maksymalnym przywiązaniem uwagi do detali. Na pewno dopasuje się do Twojego skupienia i precyzji
Wszystko pod Twoimi ramionami!
Pełna to kontrola to podstawa – niezależnie czy mowa o rozdzieleniu kluczowych zadań, czy o przypadku tak prozaicznym, jak regulacja podłokietników. Tutaj także możesz liczyć na sporo opcji i poziomów: góra/dół, przód/tył, a także przesunąć je do wewnątrz i na zewnątrz siedziska, a ponadto w lewo i prawo. Tak, na pewno niczego nie pominęliśmy!
Solidne podstawy
Dowody na przywiązanie do detali? Przyjrzyj się dokładnie konstrukcji stelażu, który został wykonany ze stali niestopowej, natomiast całość wypełniona jest odlewem zimnej piany. Do tego podstawa zyskała wzmocnienie z aluminium. W przeciwieństwie do Ciebie – na pewno zniesie jakiekolwiek nadgodziny bez grymasów!
Wsparcie na zawołanie
Jakiekolwiek długie sesje przed komputerem nie powinny być Twoim zmartwieniem, a tym samym – towarzyszące im bolączki. To drugie jest praktycznie niemożliwe – wszystko dzięki poduszkom. Jedna z nich tuż przy karku, druga w odcinku lędźwiowym, która dostosowuje się do kształtu pleców. Na pewno Ci podziękują!
Wrzuć na luz
Gdy choć na chwilę opadnie kurz, a kluczowe maile wylądują w folderze 'Wysłane' to z pewnością możesz pozwolić sobie na odrobinę luzu. Wszystko to dzięki mechanizmowi ergomultiblock. Wygnij oparcie fotelu wedle własnych upodobań i zablokuj najwygodniejszą dla Ciebie pozycję. Nie wahaj się także wyregulować stawianego oporu przy bujaniu. Góra? Dół? Proszę bardzo!
Dyskrecja ninja
Duże gumowane koła (60mm) dają solidne oparcie na podłożu, a także łatwość w prowadzeniu, gdy będzie trzeba błyskawicznie wejść w kooperację z oddaloną drukarką.
Wszystko to w trybie bezszelestnym i skrytym – tak, aby zbędnym hałasem nie stracić reputacji w biurze.
Skrojone na miarę PRO
Jakość obszycia Yumisu nie odbiega dopracowaniem od pozostałych elementów fotela. Skóra oraz zastosowane materiały wytrzymają nawet najbardziej intensywny cykl
projektowy, wraz z wielokrotnymi wypadami po kawę. Wszystko to dzięki dużej odporności na ścieranie. Wypróbuj go!
Tytan pracy
Za wspaniałym designem idzie także praktyczność zastosowania w boju. "Żywym" dowodem jest zastosowany tutaj siłownik. Może zechcesz przetestować to w kooperacji z segregatorami z księgowości, w każdym razie z dumą możemy Ci powiedzieć, że zniesie "kaliber" 150 kg
Deadline czy chillout? Dostosuje się!
Bez ograniczania ruchów a także bez sztywnej konstrukcji. Bez względu na to czy jesteś środku projektowego cyklonu, czy możesz pozwolić na delikatne przymknięcie oczu – dostosuj w pełni regulowane oparcie do swoich aktualnych potrzeb. Na pierwszym planie na pewno jest ergonomia i Twoja wygoda.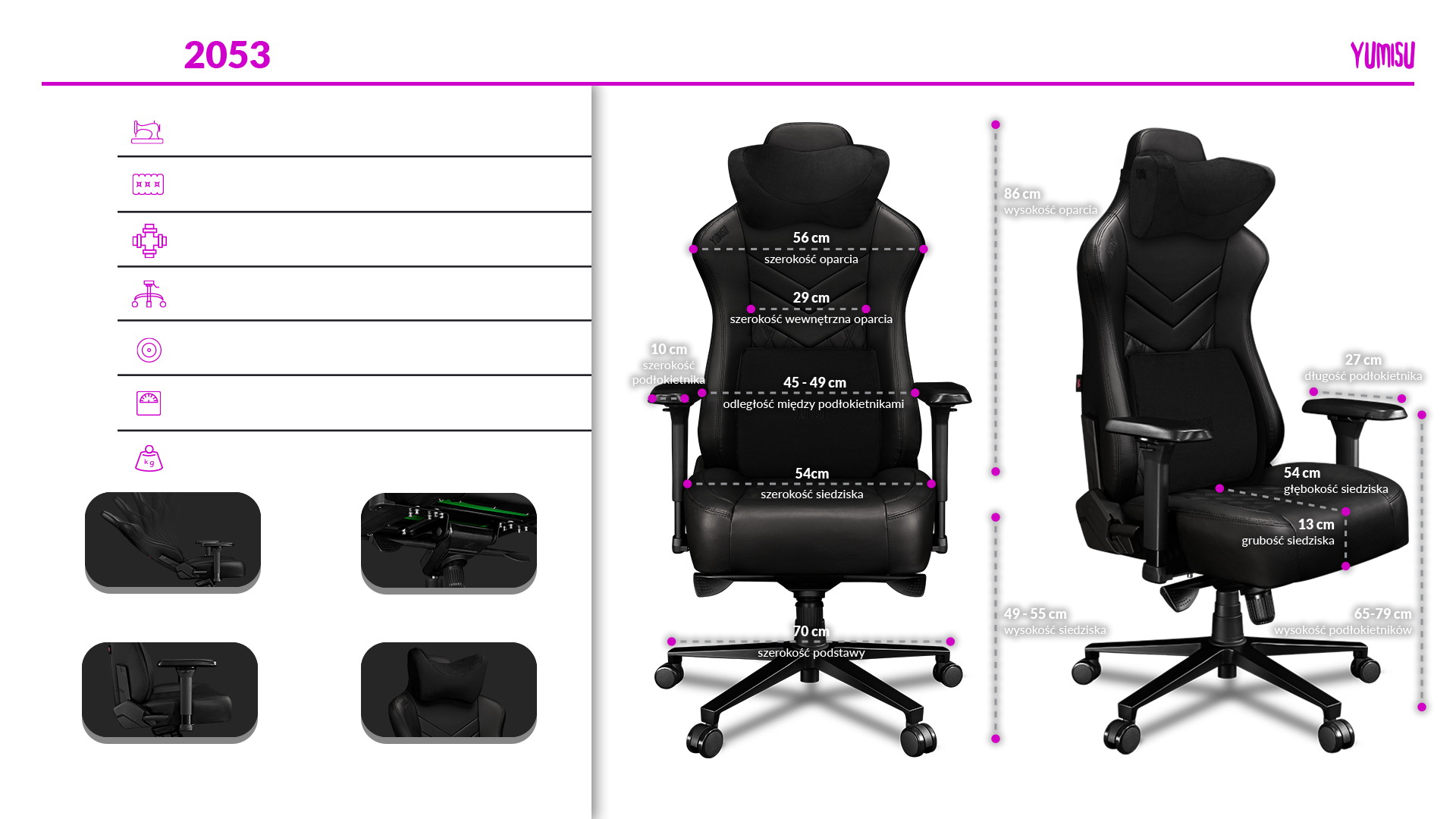 | | |
| --- | --- |
| Waga | 29,8 kg |
| Wymiar paczki | 900x700x370 mm |
| Wysokość oparcia | 86 cm |
| Min. wysokość siedziska | 49 cm |
| Max. wysokość siedziska | 55 cm |
| Szerokość siedziska | 54 cm |
| Szerokość całkowita | 70 cm |
| Głębokość siedziska | 54 cm |
| Tapicerka | Skóra PU |
| Podstawa | Aluminium |
| Max, obciążenie | 150 kg |
| Kąt odchylenia oparcia | 165° |
| Wypełnienie | Memory Foam |
| EAN | 5903641493055 |
Only logged in customers who have purchased this product may leave a review.