In stock
Fotel Biurowy YUMISU 2053 Materiał BLACK
1499,00 zł brutto, 1218,70 zł netto
Najniższa cena z 30 dni przed obniżką: 1499,00 zł.
Bliski doskonałości.
Fotel, jak każdy sprzęt, zwiększa naszą efektywność, jeśli jest dobrze dobrany. Po czym poznać zły fotel? Masz świadomość każdej spędzonej na nim sekundy. A dobry? Pierwszy moment kontaktu to zachwyt i błogość, po chwili zaś zapominasz całkowicie o jego istnieniu, a jednak czujesz się wspaniale. Dlatego z przyjemnością prezentujemy Yumisu 2053, który doceni każdy, od pracownika biurowego po zapalonego gracza. Mamy tu do czynienia z pełnym profesjonalizmem i nienaganną jakością wykonania na poziomie premium, zaś ponadczasowy minimalizm nie dotyczy funkcjonalności, a jedynie wyglądu.

Opis

Informacje dodatkowe

Opinie (0)
Solidna konstrukcja
Deadline przy ważnym projekcie czy ratowanie świata, to nie jest lekki kawałek chleba. Skoro więc na naszych barkach spoczywają problemy wielkiej wagi, potrzeba solidnej konstrukcji, która to wszystko wytrzyma. Dlatego postawiliśmy na udźwig do 150 kilogramów. Czy wystarczyłoby mniej? Być może, ale jeżeli dzięki masywnemu stelażowi możemy wam zapewnić bezpieczeństwo użytkowania, nie zawahamy się ani chwili.
Wszędzie pasuje
Dlaczego w szafie każdej kobiety znajduje się mała czarna sukienka? Bo do wszystkiego pasuje. Yumisu 2053 to właśnie taka mała czarna. Nieważne, czy wstawisz go do biura z mahoniowym wykończeniem, czy gamingowej jaskini świecącej od ledów RGB, odnajdzie się tam idealnie.
Regulacja w wielu wymiarach
Innej pozy wymaga precyzyjne eliminowanie wrogów na mapie czy odpisywanie na maile, a innej leniwe władanie swoim imperium. Dlatego oddajemy w Twoje ręce niezliczoną ilość kombinacji, jeśli chodzi o ustawienie wysokości siedziska, kąta oparcia oraz dokładnej regulacji podłokietników. Niewygodne trony zostawmy słabo kończącym się serialom.
Poduszki dla zdrowia i wygody
Od poduszek zależy nie tylko wygoda, ale również wydajność i, co najważniejsze, zdrowie. Dlatego nasze poduszki zostały odpowiednio wyprofilowane, by dbać o prawidłową postawę podczas użytkowania. Są wykonane z pianki memory foam, która dostosowuje się do kształtu ciała, oraz pokryte przyjemnym w dotyku welurem. Dzięki nim Twój fotel będzie jak garnitur szyty na miarę.
Bezszelestny i stabilny w każdych warunkach
Zalet wynikających z zastosowania gumowych kół jest wiele. Przede wszystkim są dzięki temu cichsze oraz nie niszczą podłogi, a jednocześnie pozwalają łatwo się prowadzić. Z kolei ich rozstaw został tak przemyślany, by nawet maksymalne wychylenie nie wiązało się ze spektakularnym saltem w tył.
Materiał na kumpla
Wysokiej jakości materiał, który został użyty do obszycia fotela, jest jednocześnie gładki, wytrzymały i, co ważne, zapewnia doskonałą cyrkulację powietrza. Pod nim zaś znajduje się wypełnienie z zimnej pianki kształtowanej w formie, wyjątkowo odpornej na odkształcenia. To wszystko sprawia, że na Yumisu 2053 aż chce się siedzieć, i można to robić bez strachu o zbyt szybkie zużycie.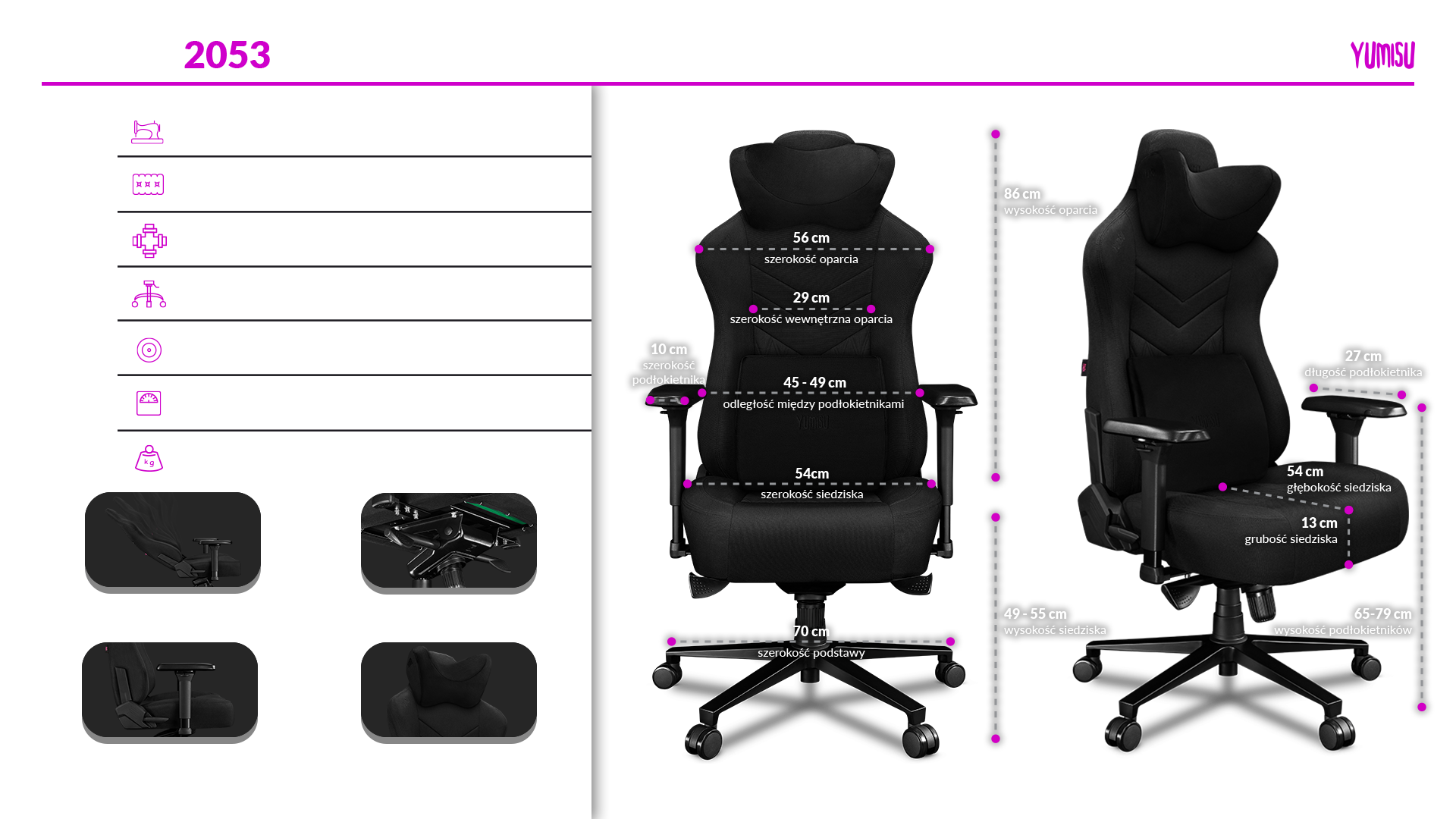 | | |
| --- | --- |
| Waga | 25,3 kg |
| Wymiar paczki | 900x700x370 mm |
| Wysokość oparcia | 86 cm |
| Min. wysokość siedziska | 49 cm |
| Max. wysokość siedziska | 55 cm |
| Szerokość siedziska | 54 cm |
| Szerokość całkowita | 70 cm |
| Głębokość siedziska | 54 cm |
| Tapicerka | Tkanina |
| Wypełnienie | Memory Foam |
| Podstawa | Aluminium |
| Max obciążenie | 150 kg |
| Kąt odchylenia oparcia | 165° |
| EAN | 5903641493550 |
Only logged in customers who have purchased this product may leave a review.